Victoria, BC
Located at the southern tip of Vancouver Island, Victoria is the provincial capital of British Columbia. Nicknamed "The Garden City," Victoria is home to historic sites, beautiful beaches, extensive park systems, outdoor sports, and so much more.
By global standards, weather in Victoria is relatively mild. Being a coastal city, you should pack a rain jacket or umbrella in your suitcase!
Victoria is definitely a relaxed city, but there's no shortage of adventure and excitement to be had!
What To Do In victoria
If it's your first time in town, make sure to explore downtown Victoria's beautiful historic buildings and boutique shopping.
 You can kayak along the Gorge waterway, walk along sandy beaches, or book a tee time at one of Victoria's excellent golf clubs.
Looking to stay indoors? Wander around the Royal BC Museum, catch a movie at one of Victoria's many theatres, or visit a local art gallery.
Getting thirsty? Victoria has many excellent bars, pubs, and clubs!
Can't decide? Island's Finest escorts are fantastic companions, and there's no better way to experience Victoria than with a gorgeous local expert to pick out the best attractions that suit your tastes!
How To Get To Victoria
By Plane
The YYJ International Airport is located in Sidney, roughly 35 minutes outside of downtown Victoria.
Taxis are always lined up outside of the arrivals gate (near the domestic luggage carousel), so you shouldn't have to call for one.
If you'd rather take the bus, we recommend taking bus route #70, which goes straight to downtown Victoria.
By Seaplane
If you're coming from Vancouver, Richmond, Pitt Meadows, or Whistler, you can take the Harbour Air Seaplane direct to Victoria's Inner Harbour. Seaplanes can be a bit bumpy in windy weather, so keep that in mind, if you have a sensitive stomach!
By Ferry
If you're coming from Vancouver by car or on foot, take the Tsawassen ferry to Swartz Bay. The Swartz Bay terminal is located in Sidney, a roughly 40 minute drive to downtown Victoria. If you arrive on foot, taxis are usually available at the passenger terminal, or you can take the #70 bus into downtown Victoria.
If you're coming from Seattle, the Clipper Ferry will take you from downtown Seattle to Victoria's Inner Harbour.
If you're coming from Port Angeles, the Coho Ferry goes directly to the Inner Harbour. Note that the Coho is the only US ferry that can carry vehicles!
By Cruise Ship
Victoria has a massive cruise ship terminal at Ogden Point, which is a 15-minute walk from the downtown core. If you're arriving by cruise ship, you'll have no trouble finding a taxi outside the terminal.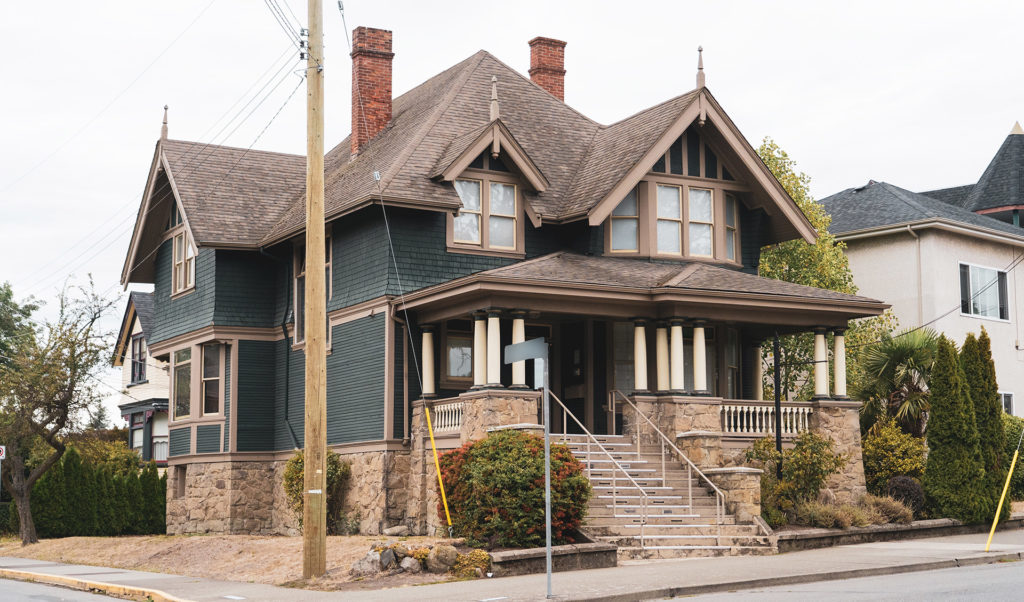 Island's Finest - Victoria
Victoria is home to the Island's Finest escort mansion. You're invited to call us and book a time to meet our escorts in our historic mansion!
Most of the Island's Finest escorts live in the Greater Victoria area, but our drivers can deliver them to virtually anywhere on Vancouver Island.
What To eat In Victoria
Boasting a staggering number of restaurants per capita, you could spend months dining around Victoria.
To make things a bit easier for you, we asked our girls for their restaurant recommendations.
For breakfast, Blue Fox, The Village, and Floyd's were the top picks.
For dinner, Il Terrazzo, Pagliacci's, and Perro Negro won out. All three are classy venues that don't take themselves too seriously, and it goes without saying that the food is excellent!
Where To Stay In Victoria
We often find ourselves recommending the Parkside Resort and Spa, The Empress Hotel (pictured above), or the Oak Bay Beach Hotel, since they tend to provide excellent service and amenities.
Note that some downtown hotels are located near nightclubs or busy roads, so do your homework and make sure you don't book a hotel that puts earplugs on every nightstand!
Wherever you decide to stay, remember that our escorts can always come to you. Give us a call, and we'll take care of the rest!